CyberOptics Vision Alignment System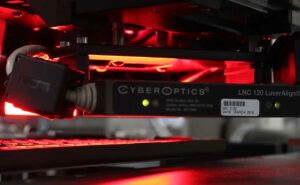 The CyberOptics LNC-120 on-the-fly vision alignment system, available on all of BPM's Automated Programmers, maximizes system throughput.  With component auto measure and precision alignment, components as small as 0402 resistors can be aligned with fine precision.
Unlike our competitor's on-the-fly cameras, BPM's CyberOptics camera has twice the resolution, allowing for faster, more precise auto-correction for the highest quality at the fastest throughput.
The precision of our premium CyberOptics on-the-fly alignment camera allows the 3901, 3928, and 4910 to handle the smallest chip-scale package (1.0mm x 0.5mm) to the largest fine-pitch QFP (34x34mm).
WhisperTeach™ & CyberOptics
WhisperTeach auto Z-Teach plus on-the-fly vision alignment reduces setup times by 83% while improving accuracy, throughput and yield. BPM builds all our automated systems with WhisperTeach and CyberOptics.
CyberOptics
LNC-120 Vision Alignment Camera improves quality and throughput
WhisperTeach™
Reduce setup time per job, improve accuracy, and yield
9th Gen Site Technology
Future-proof investment with universal site tech and Vector Engine Co-Processor; nearly 40K supported devices.
3D Inspection
Available on 3928 and BPM310 APS. Full package validation after programming insures maximum quality
Get Pricing Estimate. Please provide us with your contact info, and we'll send you an estimate based on your region and configuration.