WhisperTeach™- Patented Automated Z-Teach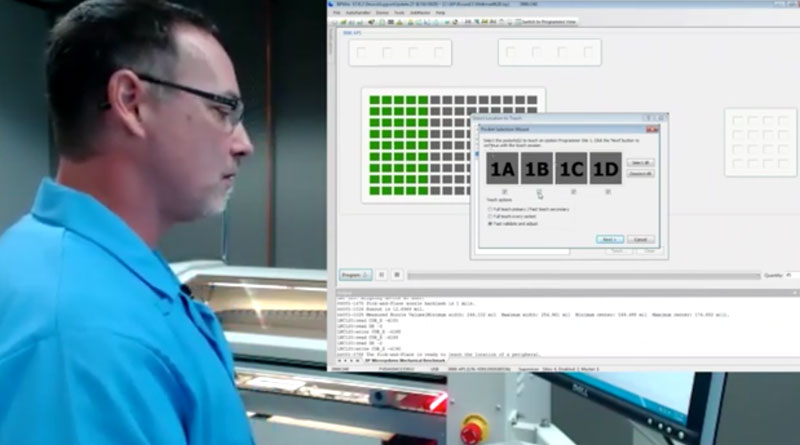 Accuracy and Repeatability Every Time
All modern machines are highly repeatable and accurate. If the operator teaches the workflow process poorly due to human limitations, skill, or carelessness, the error will be repeated consistently throughout the job.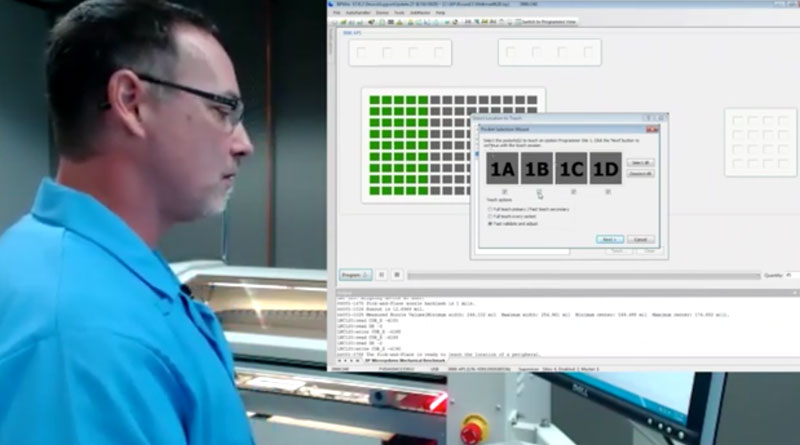 Accuracy and Repeatability Every Time
A less than perfect Z-Teach creates quality problems, low first-pass yield, and reduced productivity.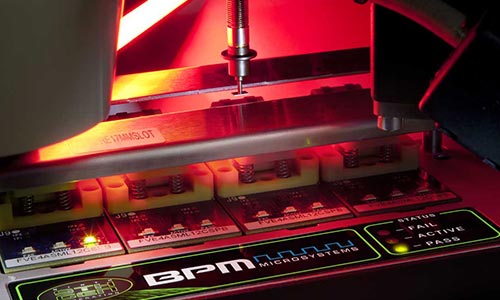 Accuracy and Repeatability Every Time
WhisperTeach™ solves these problems. You get the same results with all operators to within 15 microns of accuracy and repeatability every time!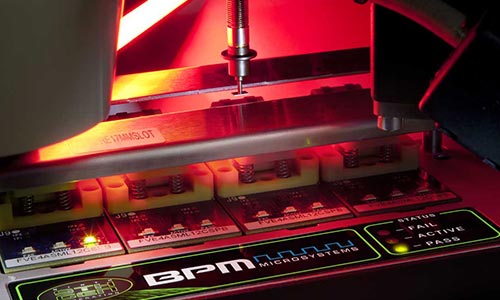 Accuracy and Repeatability Every Time
WhisperTeach™ is available on all BPM Automated Programming Systems (no one else can say that)
WhisperTeach™— BPM's advanced patented Auto-Z teach technology eliminates the need for a highly-skilled operator to set critical Z-height for pick-and-place functions. WhisperTeach™ offers faster setup times and improved yields.  In addition, WhisperTeach™ eliminates common Z-height errors such as miss picks, miss place, and socket continuity flaws.
CSP Challenge
Very small devices such as WLCSP, SOT, DFN have very low mass. When teaching Z with a vacuum, the suction causes the part to jump up to the nozzle, increasing the possibility of an inaccurate Z teach elevation. Because automated systems are extremely consistent, therefore a less-than-perfect teach may cause pick and place errors, dropped parts, cracked parts, and continuity errors.
WhisperTeach™ Description
Available on all BPM Automated Programmers
Does not require additional hardware
Teaches large devices and VSP devices, from 33.5mm down to 1.0 x 0.5mm
Will not blow away small devices
Smarter detection algorithm which will self-calibrate with each teach attempt
It is fully automated. Just center the "bomb-sights" at the part and click the button.
Comes standard with most BPM Automated Programming Systems (APS)
The new hardware will not interfere with the operation of old software for customers that need to continue using older releases
WhisperTeach™ Benefits
WhisperTeach™ eliminates device jump caused by vacuum
Because it does not use a vacuum, the part stays stationary until the part is detected
WhisperTeach™ is at least 10x more accurate than industry-standard vacuum teach (accurate to within 15 microns)
Makes teaching very simple for operators
WhisperTeach™ reduces operator training required
Reduces setup and teach time
Increases machine uptime
Improves yield