Device Programming for the Technical Buyer
The Why and How of Device Programming for the Technical Buyer: Process Engineers, SMT Engineers, Test Engineers, Product Engineers
What Is a "Technical Buyer?"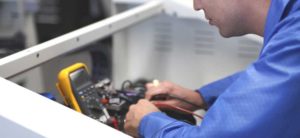 A technical buyer is often tasked with screening and evaluating a supplier to choose the best materials, products, or services for their business. In the manufacturing and electronics industries, the team tasked with exploring in-house device programming starts with the engineers. If you are a Process Engineer, SMT Engineer, Test Engineer, or Product Engineer, you play a vital part in determining the best option while weighing the upside vs. downside.
Why are more manufacturers looking to control their critical parts and components necessary for their final assembly?
Supply Chain issues

Critical shortages of parts and components are causing many manufacturers to rethink what they farm out. In the past, the equipment that installs the data on a programmable memory device was prohibitively expensive for many smaller companies, especially when devices could be programmed for just a few extra pennies. Now, companies are faced with shortages of programmable devices and face extended delays in getting the value-added data programmed.
Data complexity
There are 5 main ways of getting devices programmed (see the article here). One of the most popular is to program at the final test. For "small" (not physical size, but amount and complexity of data) devices, this is usually the best option; but as data requirements increase, the option to program in-circuit could grind an SMT line to a virtual halt. For manufacturers with high-mix, high volume, universal offline programming is often the best option.
Faster Go-To-Market
The more you directly control, the faster you can go. By bringing programming in-house, you can always have the very latest version of your firmware. If there is a shift in production requiring a greater number of programmed devices, you can easily add capacity by adding one or more shifts or ordering additional capacity (addition sites, or additional systems).
IP Protection
These days, your intellectual property (IP) is more valuable than ever– and more vulnerable. The most secure IP never leaves your facility. If your device programming is done exclusively in-house, your IP is safe behind your private security. Many manufacturers don't allow their programming systems to be connected to the internet.
What do we need to do?
Bringing device programming in-house solves some major pain points for manufacturers and OEMs of all different sizes. Businesses need solutions that are faster, more secure, scalable, and less susceptible to supply chain disruptions (get your device orders in early; there is no end in sight for shortages of many microdevices). In addition, bringing a programming solution in-house could have positive ROI in a matter of months, not years.
To speed up the process, contact BPM to set up a one-on-one consultation.
Intrigued?
Learn How BPM Microsystem Delivers You Maximum ROI
https://bpmmicro.com/what-is-the-best-way-to-get-devices-programmed/

BPM Microsystems, a global leader in device programming and cybersecurity solutions, is set to exhibit at Productronica 2023. The event will take place from November 14-17 in Munich, Germany. BPM Microsystems can be found in Hall A1, Stand 357. Unveiling Revolutionary...