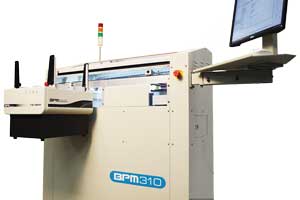 BPM Microsystems, Inc. announces the release of its 10th Generation programming technology platform and the BPM310 Automated Programming System. The 10th Generation offers the industry's fastest programming times for UFS, eMMC, Flash, and MCUs with twice as many sockets per site as its predecessor. The BPM310 offers a capacity of up to 48 sockets, automotive-level quality, and reliability in a small footprint. 10th Gen delivers the fastest UFS programming performance in the industry achieving up to 440MB per second Read and 201MB per second Write. First-part time is accelerated because UFS programming can commence without pausing for data to download.
The BPM310 is positioned to outperform higher-priced systems and includes advanced features such as WhisperTeach™, on-the-fly vision alignment, CSP support, serialization, encryption, and JobMaster while providing true universal technology. 10th Gen supports the broadest range of devices including MCUs, eMMC, NAND, Serial Flash, UFS, and others. Highly configurable, the BPM310 provides options for Tape I/O, Tray I/O, Tube I/O, laser marking, and 3D inspection. 
"Our engineering team has done an amazing job creating the most powerful universal programmer in the industry. Unlike competitive products, our system offers true universal support including CSP, Flash, MCUs, eMMC, and UFS with up to 8 sockets per site to deliver unbeatable system value," says William White, founder and CEO of BPM Microsystems. "The BPM310 is now our flagship product with the greatest capacity, flexibility, features, reliability, and smallest footprint in our product line."
"We're excited to showcase the BPM310 at Productronica and anticipate a positive market response," says Colin Harper, Global Sales Director at BPM. "In the past, we have demonstrated two machines at the trade show. Now we have one system that can do it all. In fact, the BPM310 is able to program as many devices concurrently as our larger system, the 4910, in a footprint about half its size while offering the same I/O flexibility and improved reliability."
The BPM310 leverages much of the socket adapter and algorithm development currently available on its 9th Generation systems. And like all 9th Gen automated programmers, the BPM310 continues to offer ease of operation and fast setup with award-winning BPWin process control software and patented WhisperTeach™. WhisperTeach™ automatically teaches the critical Z-height of each pick/place location with 15-micron accuracy. Accurate automated teaching is vital for small packages due to fundamental human limitations. Plus WhisperTeachTM saves an average of 83% of the time required for the job setup compared to traditional methods while increasing quality and yield.
BPM manufactures its 10th Generation systems in their ISO 9001:2015 certified plant located in Houston, Texas, and their products carry the CE Mark. BPM continues to offer 9th Generation programmers for manual and automated programming. If you are at Productronica 2021, visit Hall A1-353 from November 16 through 19, 2021 to see a live BPM310 demo. For more information on the BPM310, go to bpmmicro.com/BPM310.