BPM Connect | Frequently Asked Questions (FAQ)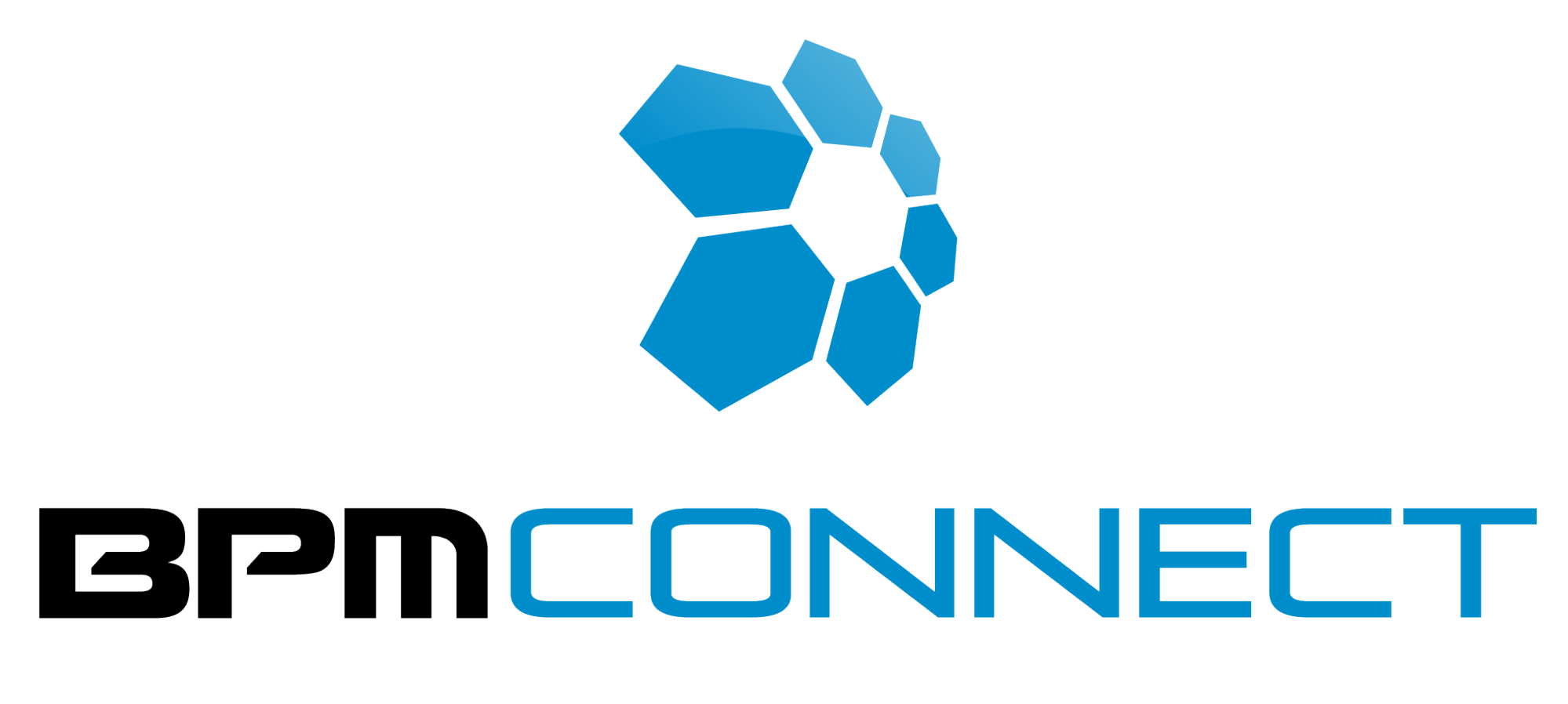 BPM Connect is an online community allowing 24/7 access to your interactions with BPM Microsystems. We constantly strive to go above and beyond in creating a legendary experience for our customers, and this is our next leap forward.
What can I do in BPM Connect?
Create and track customer service support cases
Create and track device support requests
Communicate directly with BPM Microsystems personnel
---
How do I get access to BPM Connect?

Click Here. If we already have your email address in our system then you will be able to sell-register without an administrator having to enable your access. If your account needs to be set-up, then a community administrator will activate your account and you will receive a registration email with instructions on how to set your new password. Passwords must have at least 8 characters with one uppercase letter, one lowercase letter, and one number.
---
Why should I use BPM Connect?
BPM Connect has been developed to be your 24/7 window into any interactions that you have with BPM Microsystems. You will no longer need to email the Inside Sales team or Customer Service team to ask for an update on your cases or DSRs. BPM will be providing regular updates and you will have full visibility into your open requests. If we need something from you to process the request we will let you know through the community, and you will be able to ask us questions as well. We want to be transparent in how we handle your requests and BPM Connect gives you the inside look!
---
How do I create a Customer Service case?
You can create a Customer Service case by clicking on your name in the upper right corner of the page and selecting "Contact Support". There is also a "New Support Case" button on the BPM Connect homepage.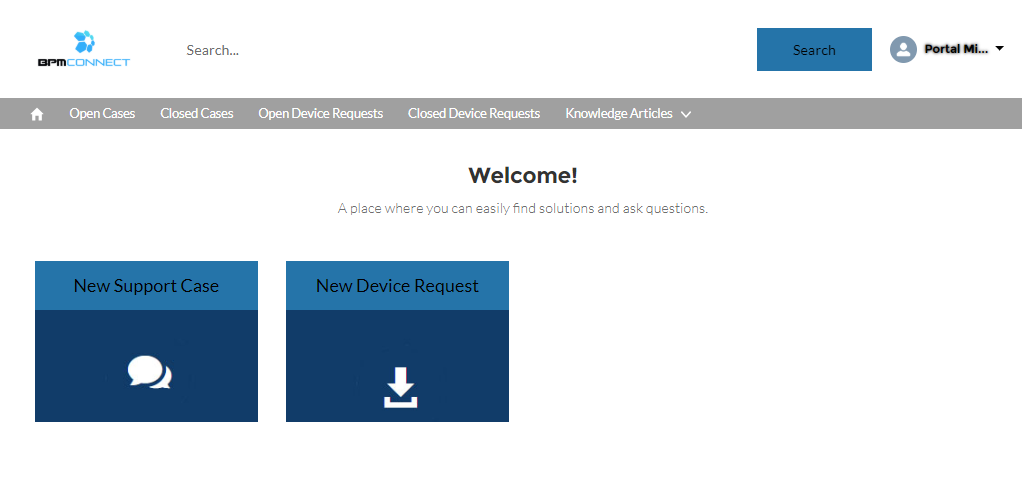 Clicking either will direct you to a page that looks similar to the image below. Simply fill out the information and submit your case. The community also supports adding attachments directly from this form! If you have multiple attachments to add then you will be able to do so after the case is submitted.
---
Case Submission

---
What is Chatter?
Chatter is the way that you will communicate to BPM Microsystems through the BPM Connect community. It is very similar to any other posts that you make on other social media sites. To tag, a user simply types the "@" symbol and then the name of the user. In the example, this looks like "@Corey Miles". Instead of using emails to communicate back and forth, you will be able to leave all information through chatter and add anyone else that you want to get notified. A single chatter post acts like an email thread and anyone tagged on that chatter post will continue to receive email alerts.
---
How do I create a device support request?
To create a device support request click the "New DSR" button on the BPM Connect homepage. From here you will be able to enter all of the information necessary for BPM to process your device support request. Instead of getting a WEB number like you would have received when you submitted a DSR from the bpmmicro.com web page, you will now be assigned a DSR number for this request. Attachments such as datasheets can be added after submitting your DSR. (see DSR form below)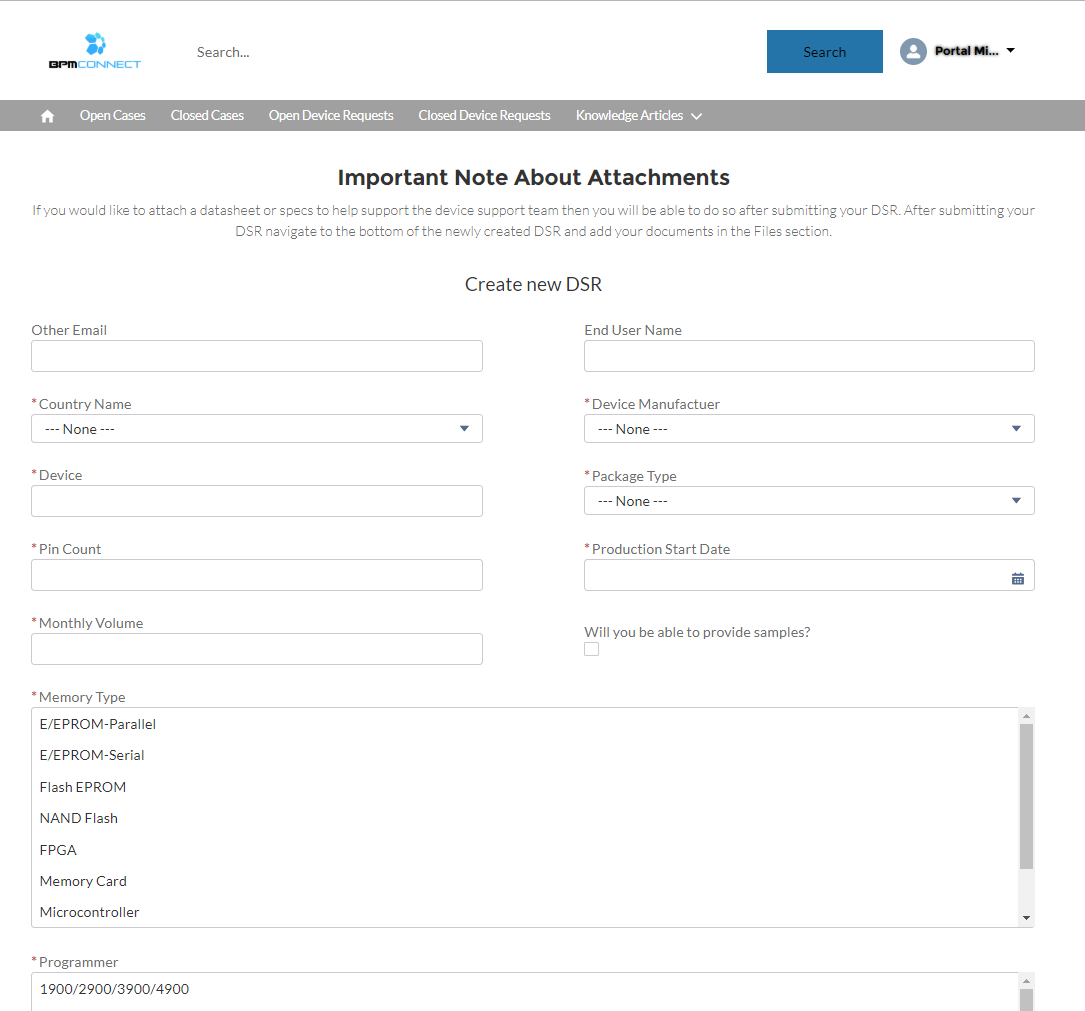 ---
Can I be locked out of my account?
You will only be allowed to enter the wrong password five times while attempting to log into your account. If you enter the wrong password five times your account will be temporarily locked for 15 minutes. If you need to gain access to your account sooner then email tech@bpmmicro.com and a customer service representative will be happy to help you reset the password for your account.