Legacy Automated Programmers from BPM Microsystems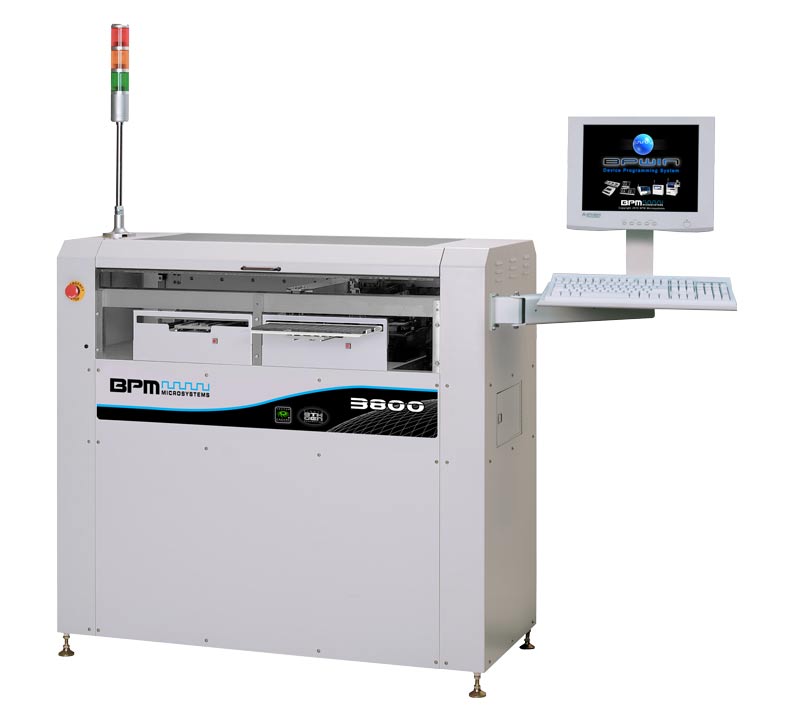 Hundreds Still Running
Several hundred of our legacy Automated Programming Systems (defined as machines we no longer offer for sale) are still in operation; many 15 years and older. There may be some compelling reasons to upgrade (such as capacity issues, or slower programming times for newer devices), but if it ain't broke, why fix it? Many of these older machines have been paid off for years (other than spare parts and consumables), so as long as they are still productive, an older system is a pure profit center.
BPM still supports many systems (there are some exceptions, so please check the End of Life page). You can continue to get parts and support with a current hardware and/or software contract.
Upgrade
To find out more about upgrading your existing 3800MK2 or 3900 to make it faster and have greater, more accurate throughput, let us know!
Available Upgrades
APS legacy models 3800MK2 and 3900 use upward vision camera technology for component alignment. These APS can be upgraded to get new hardware and software for on-the-fly vision alignment and higher performance with a CyberOptics on-the-fly alignment camera and other improvements with the Z and Theta Axis.
Compelling Reasons to Upgrade
Performance: The 3800MK2 to 3810 upgrade combined with other hardware improvements will allow 800 DPH (3800MK2) to an impressive 1200 DPH. This is accomplished because of the sophisticated CyberOptic LNC-120 for on-the-fly vision alignment and improved pick and place movement using hardware/software advancements.
The 3900 to 3910 upgrade improves Devices Per Hour from 1100 DPH (3900) to an impressive 1432 DPH for the 3910.
Component Automeasure, supported with the CyberOptics alignment camera allows customers to set up jobs more quickly. WhisperTeach allows for faster job setups and changeovers.
CSP devices are supported. The LNC-120 is a sophisticated alignment camera capable of accurately and repeatedly aligning the smallest programmable devices presently on the market as of September 2019.
This is not simply a "camera change." Upgrade include a new e-chain, improved hardware and performance improvements for the Z-Axis, plus faster, more accurate, and faster Theta performance (rotation alignment).
Legacy Machines Still In Operation
 
APS Model
Operating Machines by Generation
3000FS
3610
6th Gen

6th Gen launched in 2000 (20 years)
4610
3710-3710MK2

7th Gen

7th Gen launched in 2007 (13 years)

4710
3800
8th Gen

8th Gen launched in 2011 (8+ years)
3800MK2
3800W7-32
4800
4800W7-32
Windows 10
We're pleased to announce that BPWin Windows 10 Compatible version went live with the launch of version 7.0.0. BPWin is currently compatible with Windows XP, Windows 7, and Windows 10, 64-Bit operating system; users can now take advantage of the newest Windows operating system with greater speed, security, and access to the latest OS updates (Microsoft announced it will cease support for legacy OS– see full info from Microsoft here).
Important: you'll need a current Software Support Contract for all APS and 2XXX Manual Programmers. Contact Inside Sales for contract support.
If you're interested in Windows 10 support on your current system, contact Technical Support for more information. You may need additional hardware to support Windows 10.
Upgrade
To find out more about upgrading your existing 3800MK2 or 3900 to make it faster and have greater, more accurate throughput, let us know!