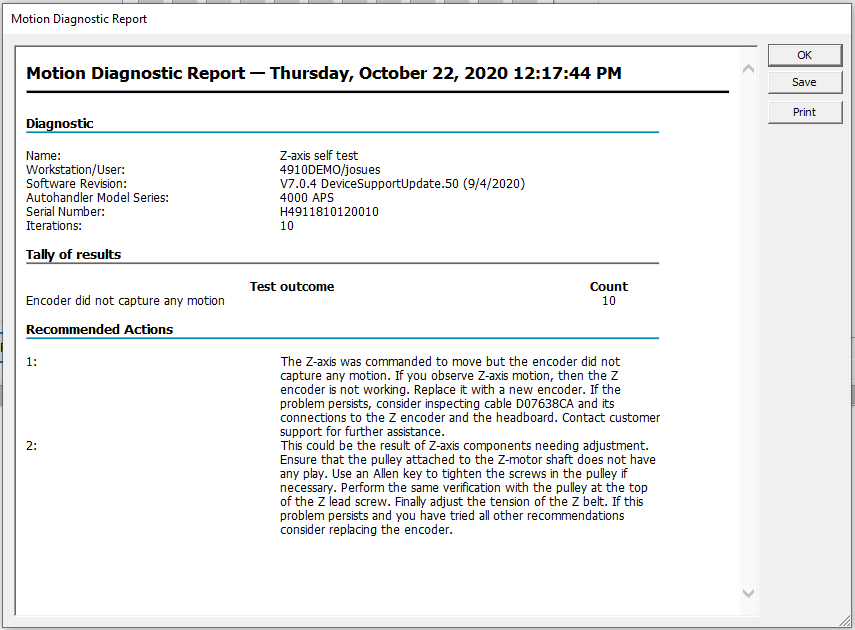 Highlights
Added a Z self-test motion diagnostic for 4x systems equipped with a Z encoder. This includes some 4900 and all 4910 autohandler systems. This diagnostic executes a sequence of tests to find possible failures and provides recommended actions. Access the Z self-test in the

BPWin Motion Diagnostics accessible through the Autohandler menu: Autohandler->Pick-and-Place->Diagnostics. For example, here is a screenshot of the Motion Diagnostics Report where the Z-axis encoder is not connected to the headboard:


Improved use of the theta encoder during axis motion to correct failed attempts to arrive at the commanded destination. Added useful debugging log information to help operators pinpoint any hardware faults. In the case of consistent theta failures, the theta speed will decrease incrementally to keep the machine running. This enables operators to finish the current job and address any hardware failures afterward.
Other Updates
Added logging information to include the list of selected operations when loading Job Master (.bp) and Automated Job Master (.abp) files.

Upgraded the onboard 64GB eMMC memory sticks used in 8th Generation programmers. Customers with 8th Generation programmers that have memory sticks of 32GB can upgrade to this 64GB memory stick. Contact customer support for details. This is part of BPM's commitment to supporting legacy programmer models in the field.

Implemented registry key for administrators to control access to the maximum laser power limit configuration. For further information contact Customer Service.
Download Software