If you are currently outsourcing your device programming, here's 6 reasons you may want to reconsider (and if you're already programming in-house, here are 6 reasons to feel good)
6. Security
It may sound simple, but just having your program in your facility is a major deterrent to intellectual theft. You control access, and with our suite of tools that all work together, you have control over the entire process— from the first article to production.
5. Advanced Cybersecurity
BPM offers flexible security solutions for serialization, encryption, key handling, and user control requirements. BPM Microsystems Software Engineering team can provide professional services to consult, scope and quote a complete cybersecurity solution.
4. Easy Software
Use BPWin to set up and run your jobs, using our ever-growing collection of features and algorithms. The user-friendly interface helps you set up, run and save your programming jobs with ease. Factory integration through the BPWin API streamlines production processes.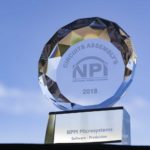 3. WhisperTeach™
The winner of the 2019 NPI Award for Production Software. BPM's advanced patented Auto-Z teach technology eliminates the need for a highly skilled operator to set critical Z-height for pick-and-place functions. WhisperTeach™ offers faster set up times and improved yields!  WhisperTeach™ eliminates common Z-height errors such as miss picks, miss place, and socket continuity flaws.
2. "One Programmer to Rule Them All"
BPM's 9th Generation universal programmer offers the fastest flash programming times as well as the widest universal device coverage all in a single programming site. BPM allows customers to efficiently program first articles, offering manual and automated production using the same algorithms and sockets across the entire line— saving both time and money.
1. Service Excellence Award
The  Service Excellence Awards recognize companies that received the highest customer service ratings, as judged by their own customers. Customers of participating companies rated each company in five service categories including dependability, quality, responsiveness, technology and value for the price. BPM Microsystems ranked first place across device programming equipment providers. What does that mean to you? You can count on BPM to take care of you, literally for years to come.