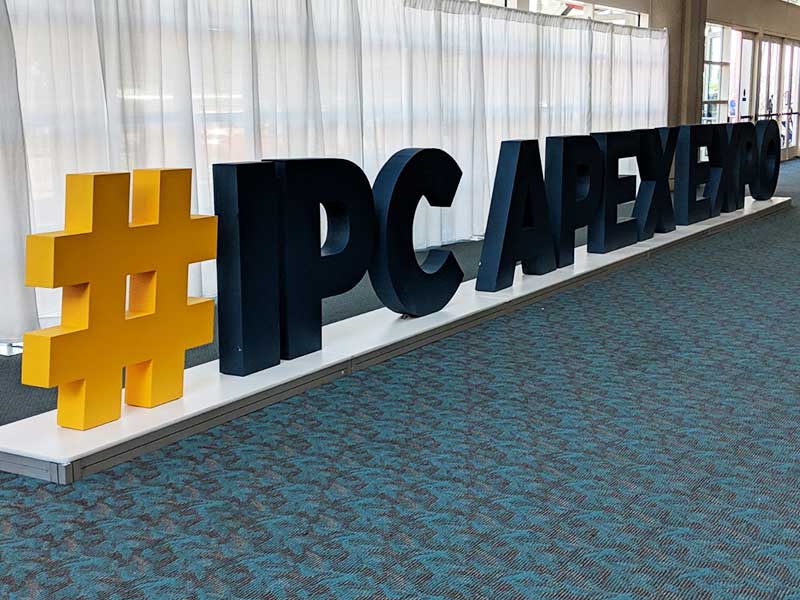 If you're into cool gadgets, APEX 2019 was like a techie's Christmas. BPM brought its coolest new machines and rocked it! Trade shows are a lot of work, and lots of things can go wrong (and they did), but fortunately, everything was running like a top by Tuesday morning. Here are the highlights and some more pics:
NPI Award for WhisperTeach+ (if you bring back an NPI award in your carry-on luggage, it will flag a security check)
Over 150 guests (that we know about) over 2-1/2 days
Two video interviews (with Global SMT and What's New in Electronics). Links coming soon
Many opportunities discovered and a few rekindled
The 3910 and 4910 Automated Programming Systems demonstrated why they are the best solution for Automotive, Industrial, IoT, Medical, etc. device programming— they truly are fast and easy (and profitable!)
An 8-foot video wall provided some additional buzz
Most of our Sales Representative Organizations covering the US, Canada, and Latin America participated, including InterLatin, the Murray Percival Group, and Restronics Inc.
Quote of the week: "Your booth is amazing– so much traffic; you must have sexy machines!" from our next-door neighbor from Parker Hannifin
Video— BPM introduces Award-Winning WhisperTeach+
BPM Microsystems upgrades its WhisperTeach software to WhisperTeach+, the NPI 2019 Award Winner for Production Software. The new software plots X and Y coordinates in addition to the Z height, limiting the potential for misplaced or damaged devices during programming. Trevor Galbraith of Global SMT & Packaging interviews James "Jim" Holava, Global Sales Director with BPM Microsystems on January 29, 2019, at IPC APEX 2019.