SMTconnect,
Europe's singular event dedicated to the development, production, service, and application of microelectronic assemblies and systems, is gathering a diverse community of engineers, technologists, and microelectronics enthusiasts in Nuremberg, Germany. The event serves as a thriving platform for the exchange of innovative ideas, fostering collaboration and evolution within the microelectronics ecosystem.
Among the major participants at this year's event is BPM Microsystems, along with their EU Partner, Adaptsys. They are presenting the BPM310, their latest generation Automated Programmer, which embodies significant advancements in device programming technology. Engineers, industry insiders, and all interested parties are encouraged to experience the BPM310 firsthand at Hall 4, Stand 147.
BPM310: Redefining Automated Programming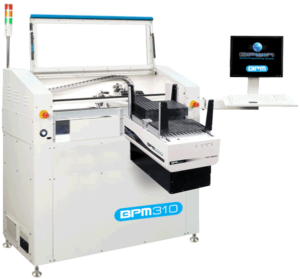 The BPM310, BPM Microsystems' 10th Generation Automated Programmer, is expertly engineered for maximum throughput and adaptability. It boasts up to 6 fully universal programming sites, each with the capacity to host up to 8 sockets. This level of parallelism positions the BPM310 to deliver exceptional programming times, all within a remarkably compact footprint.
The BPM310 comes equipped with cutting-edge features such as the proprietary WhisperTeach™ for automated z-height teaching, BPM.NCRYPT for secure data handling, and real-time vision alignment for accurate device placement. It supports a broad spectrum of devices, ranging from Universal Flash Storage (UFS) and complex microcontrollers to Flash Memory. Moreover, it can proficiently program devices of various dimensions, from the smallest chip-scale packages (CSPs) to the largest Quad Flat Packages (QFPs), all at impressive speeds.
Interactive Demonstrations and Tailored Consultations
Attendees have the opportunity to schedule a live demonstration to witness the BPM310's capabilities in action or to arrange a meeting to discuss their specific needs and challenges. BPM's representatives, including Colin Harper, and Director of Sales, Penny Santhanam, Senior Director of Customer Success, will be on hand to provide insights and high-level dialogue.
SMTconnect is a unique forum for the engineering community to engage with the technologies shaping the future of microelectronic assemblies and systems. It's a platform for gaining insights, initiating business deals, and advancing education in this rapidly evolving field. For more details, please reach out to the BPM Microsystems team.