Productronica 2021 ends with about 20,000 visitors and 894 exhibitors from 36 countries (including BPM), underscoring its position as a leading trade fair for the electronics industry.  While those numbers are down from previous shows, there was much pent-up interest. Those who were there were eager to see what's new. Read more here.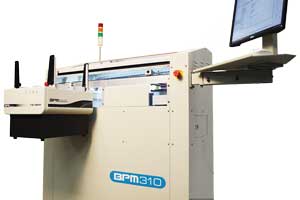 The new BPM310 10th Generation Automated Programmer ran flawlessly. Final numbers for the demo: 1,200 Devices per Hour (DPH) on four 10th Gen Sites with 32 sockets tray-to-tray (TS1500 Tray Stacker). The benchmark devices were BGA153s with a programming time of 38 seconds. By the fourth day of Productronica, the BPM310 cycled through over 30,000 devices! The BPM310 has a maximum configuration of 48 sockets on a smaller platform, with a maximum DPH of 1,432. The BPM310 can be configured with advanced peripherals, such as 3D inspection and fiber laser marker.
"Another Productronica is in the record books," says Colin Harper, Global Sales Director at BPM. "A big thanks to Adaptsys (BPM's European Distributor) for another successful show. And thank you to all the visitors that stopped by to see our new universal automated programming system, the BPM310. We're looking forward to furthering engagement. Prost!"
The BPM310 was received well by numerous electronics manufacturers, who are interested in bringing programming in-house. They are excited by the prospect of a small platform with maximum capacity, including high-density devices, such as eMMC, UFS, and Microcontrollers without the need for multiple site types.
Next Productronica, which happens every two years, will be November 14-17 2023.