How to Program In-House, Part I
Everything starts with a device (probably more than just one). Actually, it starts with a "something" you sell that has one or more programmable devices. (We used to say that includes just about anything except a mattress, but there are lots of mattresses nowadays with advanced features). All examples are for instructional purposes only.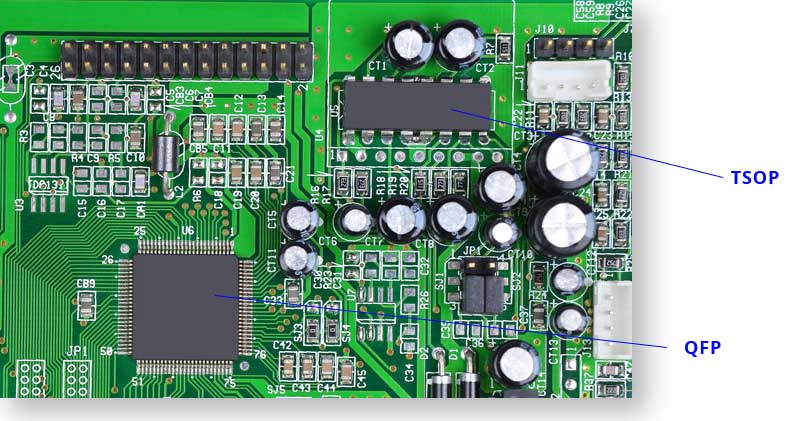 In our example, we've got two programmable devices on our board: a TSOP and a QFP programmable device. The TSOP has 1200 Kilobytes of data; the QFP has 1 Gigabyte (which makes in-line or on-board programming a bad option).
6 Ways to Program Devices (and Why Off-Line Programming may be an option)
Power Tip: If you are in the development stage of a project, use Device Search to see if there is already a programming solution for a device. At the development stage, you could possibly substitute a similar device that has support, saving time and money. New development can be expensive, so avoid it if possible
| | | | | | |
| --- | --- | --- | --- | --- | --- |
| Device | Semi House | Code | Qty/Year | File Size | Benchmark |
| QFP | Renesas | R5F100GXXX | 1,200,000 | 1 Gigs | ? |
| TSOP | Renesas | HN58VXXXX | 1,200,000 | 1 MB | ? |

Click on the Device Search link at the top of the BPM webpage. Search for the first device.

Click Search

One or more search results will be displayed. If no search results come up, try simplifying your search query. If that returns no results, you can request Device Support.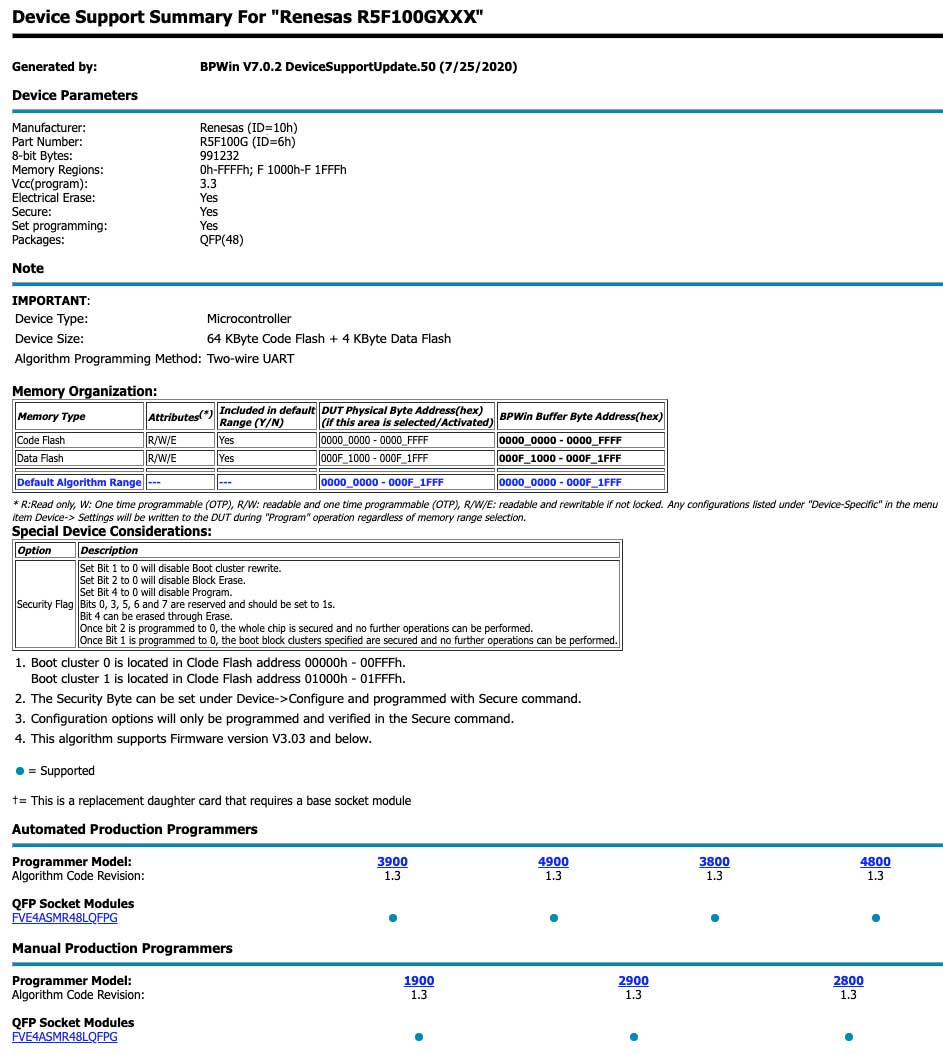 When you click the link, you'll see the device parameters; towards the bottom are options for Automated Programmers, Manual Programmers, and sometimes Engineering Programmers (Engineering programmers are typically for older BPM programmers).
A good rule of thumb regarding when a programming project is a good candidate for Automated Programming is if quantities are in excess of 50,000 parts per year (there are some other things that could factor in, such as laser marking, 3D inspection, etc.). In our example, we will need about 3 million devices per year, so that makes Automated Programming a no-brainer.
The socket specific to your device will be listed in the left column, and are sorted by performance, with top-performing sockets towards the top. In our example, we'll select FVE4ASMR48LQFPG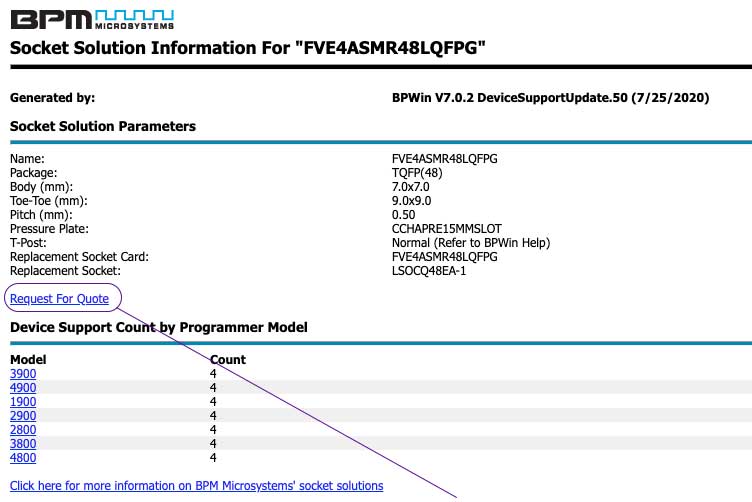 When you click on the top socket, you'll get more specs on that socket. To get a quote, just click on the "Request for Quote" link.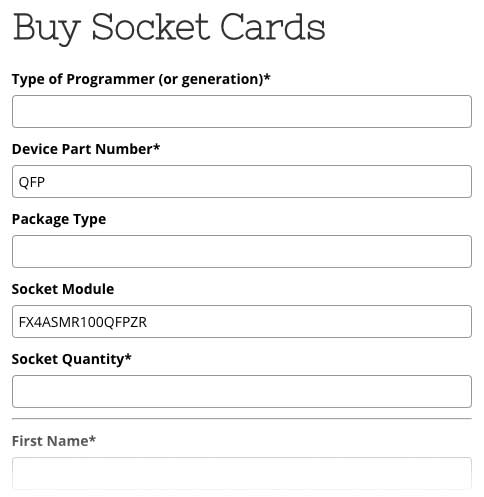 Some of the fields will auto-fill; you will need to let us know the type of programmer you have (or which generation you are looking to get).
Once you know which socket is required to program your first device, you can also search to see if the socket is available for purchase on-line. Click on the "hour glass" symbol next to the "Get Quote" button in the Navigation Bar

Type in the search term and hit "enter"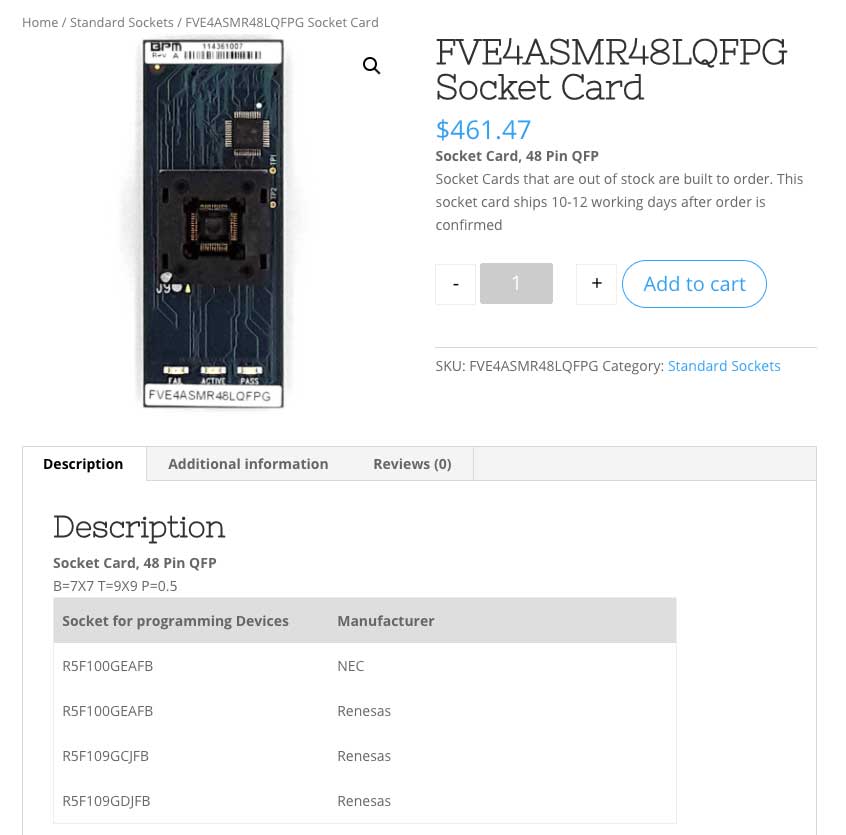 If it's available, and you are in North America, you can place your order with a credit card or purchase order.
Device Request
If your initial search for a socket doesn't return a result, you can simplify your search query (that often works); if you still don't get a "hit" don't fret– use Device Request.

You'll need a BPM Connect login. For more info on that, please view the video (below). If you like, you can skip ahead to about 5:30…
Device Search & Device Support Video
A short video on Device Search (beginning), How to order on-line (starts about 4:10), How to request Device Support (starts about 5:30)