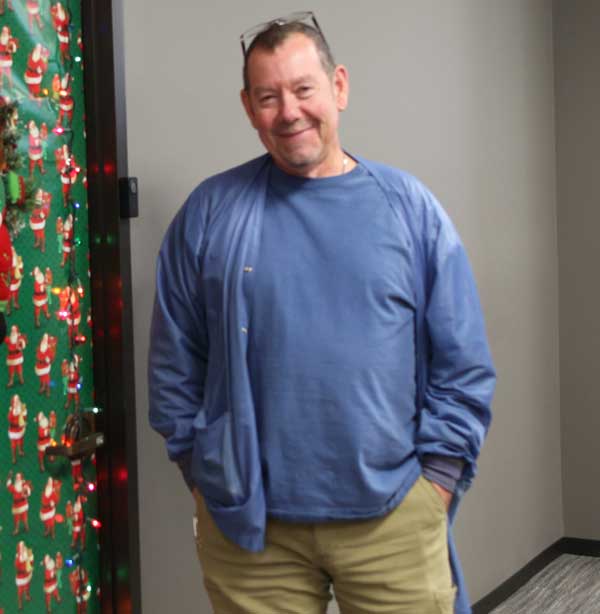 As Paul Wickboldt, BPM Microsystems' Systems and Facilities Administrator,  marks his 23rd year with BPM, the occasion merits more than just a commemorative plaque or a simple handshake. Paul's journey is one of commitment, diverse skill sets, relentless pursuit of excellence, and personal resilience.
A Man of Many Talents
Paul Wickboldt's skills are not confined to a single job description. At BPM Microsystems, Paul has worn many hats—System Administrator, Facility Administrator, Help Desk Technician, and Contract Coordinator, to name a few. He manages multiple servers, serves nearly 100 users, and oversees a 35,000 sq ft 3-story building. Simply put, he is the backbone of the technical infrastructure, ensuring that everything runs as smoothly as a well-oiled machine.
Resilience Beyond Work
What makes Paul's story even more inspiring is his personal journey as a cancer survivor. The resilience and strength he demonstrated during this challenging time are a testament to his indomitable spirit. But battling cancer isn't his only achievement outside of work. Paul is an accomplished photographer whose keen eye captures the beauty of the world in unique ways. He's also a skilled woodworker, creating pieces that are both functional and artistic.
A Walk Through Memory Lane
Before joining BPM Microsystems, Paul honed his skills in various industries, making him a man of diverse experience. His resume paints a picture of a highly skilled individual:
United States Air Force:

Serving as an Electronic Warfare Systems Specialist, Paul spent over a decade troubleshooting and repairing radar transmitter and receiver equipment.

Constar International:

As a Machine Operator, Paul was responsible for maintaining production flow and operating complex machinery.

John H. Carter Company, Inc.:

Here, he was a Field Service Systems Engineer, specializing in the installation and maintenance of Fisher Rosemount DCS computer systems.

Excel Inc:

As a Journeyman Electrician, he installed, maintained, and troubleshooted motor control and electrical circuits in harsh industrial environments.
The Pulse of BPM Microsystems
"Paul keeps this place up and running," says Jon Bondurant, the COO of BPM Microsystems. This simple yet profound statement encapsulates the essence of Paul's role in the company. His ability to adapt, learn, and excel in various capacities has made him an invaluable asset.
Overcoming Challenges
Managing a 35,000 sq ft 3-story building is not without its challenges, but Paul's earlier experiences have trained him well. He's equally comfortable working on a computer terminal as he is troubleshooting electrical issues in the building. The skill set he acquired over the years, starting from his time in the Air Force to his stint as an electrician, has equipped him with the tools needed to keep BPM Microsystems running efficiently.
The Importance of Longevity
In today's fast-paced world, where job hopping is often the norm, Paul's 23 years at BPM Microsystems is a testament to his loyalty and the company's nurturing environment. Longevity like this not only brings unparalleled expertise but also creates a sense of continuity and reliability that is irreplaceable.
Conclusion
As we celebrate Paul Wickboldt's 23-year anniversary, we don't just celebrate a milestone. We celebrate the unwavering commitment of a man who has devoted his diverse skill set and vast experience to the success of BPM Microsystems. Beyond that, we honor his personal journey of resilience, artistry, and craftsmanship. His story is not just a tale of personal success but is, in many ways, the story of BPM Microsystems itself—a story of growth, commitment, and technical excellence. Thank you, Paul!