BPM Releases Support For NXP Industrial/Automotive MCU

MXP (Freescale) MC9S12DJ64CFU for Automotive and Industrial Applications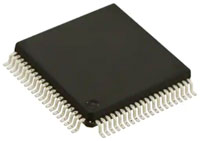 BPM is pleased to announce 9th Generation support for the NXP Industrial/Automotive MCU (Microcontroller) MC9S12DJ64CFU. This flash device is used primarily in small engine automotive applications, but also Industrial, Mobile, and Smart Home. BPM is the only company among our major competitors that currently provides programming for this device.
According to MXP, the MC9S12D is a 16-bit MCU composed of standard on-chip peripherals, including:
Two asynchronous serial communications interfaces
8-channel IC/OC enhanced capture timer
Two 8-channel, 10-bit analog-to-digital converters (ADC)
8-channel pulse-width modulator (PWM)
which is designed for (Automotive) Motorcycle Engine Control Unit (ECU) and Small Engine Control, (Industrial) Anesthesia Unit Monitor, Electricity Grid and Distribution, Gas Meter, Home Health Gateway, Powered Patient Beds, Smart Power Socket and Light Switch & Water Meter; (Mobile) Hearables, Input Device (Mouse, Pen, Keyboard), Wireless Charging Pad & Wristbands. See more here.
Package: HQFP(80)
Category: MCU
Detailed Description: HCS12 series Microcontroller IC 16-Bit 25MHz 64KB (64K x 8) FLASH 80-QFP (14×14)
16-bit words: 2056192
Memory Regions: 0h-3FFh; 2000h-3FFFh; 6000h-7FFFh; 1E 4000h-1E 5FFFh; 1E C000h-1E DFFFh; 1F 4000h-1F 5FFFh
Vcc(program): 4.5
Electrical Erase: Yes
Secure: Read and Program
Set programming: Yes
9th Gen Socket Solution: FVE2ASMR80QFCM
Available on BPM's Process software BPWin Versions released after 01/14/2021
Unique Support
As of publication, BPM has the only supported solution for this particular device. Freescale devices currently supported by BPM stand at 3,223. NXP devices currently supported by BPM stand at 650.
| | | |
| --- | --- | --- |
|   | Supported* | Socket |
| Elnec | No |   |
| Data I/O | No |   |
| Dediprog | No |   |
| BPM | Yes | FVE2ASMR80QFCM |
*As of publication
9th Gen
9th Generation Site Technology delivers the fastest programming times, 2 to 9 times faster for flash devices. Vector Engine™ Co-processing with BitBlast offers the fastest programming speeds in the industry, vastly increasing throughput.
BPWin Software Support
In order to fully take advantage of new device support from BPM Microsystems, you'll need a version of BPWin after 1/14/2021. New programmers come with one year of software support; if your software contract has lapsed, please contact Inside Sales to take advantage of daily additions and improvements in device support.
Number of Devices Supported by 9th Gen