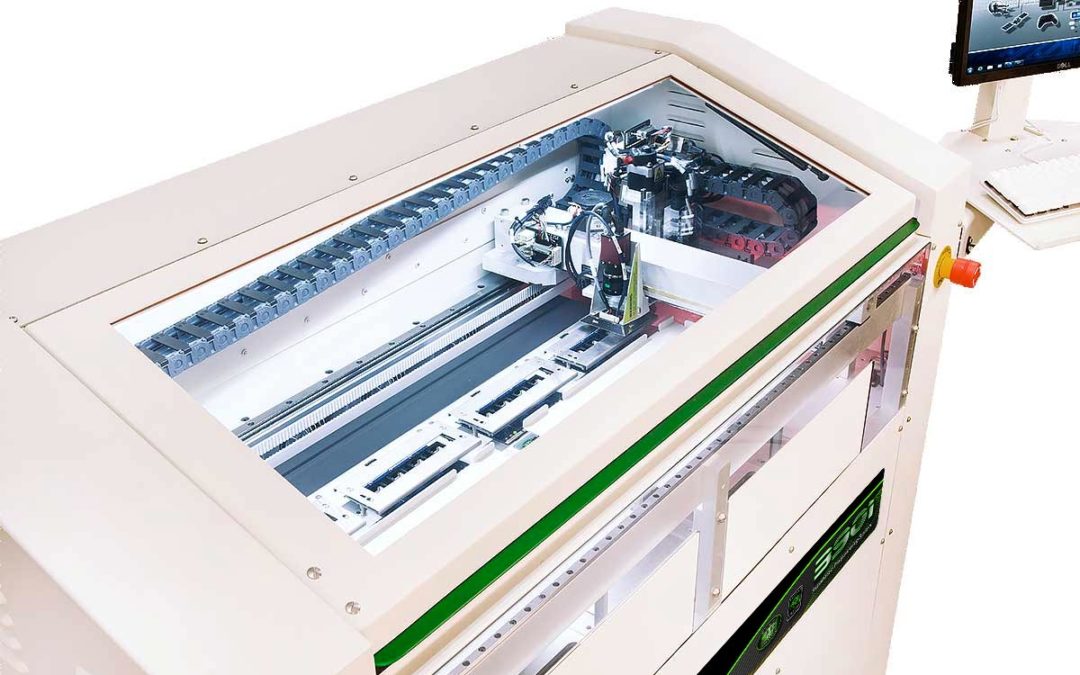 BPM Microsystems announces the sale of another Automated Programming System to an Original Equipment Manufacturer. "This is fantastic news and an especially strong sale considering the economic backdrop right now," says William White, founder and CEO of BPM Microsystems.  The second system is a testament to the first machine purchased a little over a year ago. This US-based company creates power systems solutions for a worldwide customer base. "They liked the flexibility and productivity they achieved from the first machine. They bought a second machine for another factory so they can have the same capability there," says Mr. White.
The second 3901 APS was purchased for another location, enabling them to have the same capability in both factories. The 3901 Automated Programmer has a maximum throughput of 1,088 devices per hour with four 9th Generation Sites (can program up to 16 devices concurrently). The 3901 is billed as the "The Low-Cost Automated Programmer with on-the-fly Vision Centering and True Universal Support," achieving the lowest programming cost per device, without sacrificing versatility and performance. The 3901 is offered in a variety of bundled configurations that support price-competitive markets while providing features and reliability unavailable from competitors' systems. Like all BPM Automated Systems, the 3901 comes standard with BPWin process control software, BPM.NCRYPT (cybersecurity), WhisperTeach™, and CyberOptics© vision alignment. 
BPM.NCRYPT
Unlike other cybersecurity solutions that are expensive and inflexible, BPM offers a range of options based on your particular needs. BPM.NCRYPT can integrate with your existing security systems and can be customized to the unique requirements of the project. It's scalable: no requirement for a separate HSM for each automated system; One HSM (or secure server) can support several BPM high-speed programming systems. Most of all, it's affordable: BPM does not charge per device, and all BPM automated systems are enabled to support encryption.
WhisperTeach™
Patented WhisperTeach™ automated Z-Height teaching is ideal for fast, reliable set-ups. In addition, WhisperTeach™ eliminates common Z-height errors such as miss picks, miss place, and socket continuity flaws.
Very small devices such as WLCSP, SOT, and DFN have very low mass. Legacy teaching methods rely on operator skill and vacuum to determine the pick location. When teaching Z with a vacuum, parts often "jump" up to the nozzle, resulting in an inaccurate Z axis pick location. Because automated systems are extremely consistent, a less-than-perfect pick height location will cause pick and place errors, dropped parts, cracked parts, and continuity errors. Damaged devices may pass initial inspection, but could lead to premature failure in the field.  WhisperTeach™ eliminates all of these failures by accurately teaching the pick position to within 15 microns of accuracy.  
CyberOptics©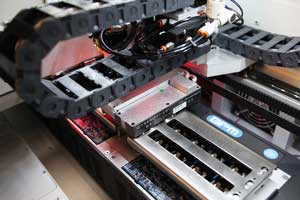 The CyberOptics© LNC120 camera is used for component auto measure (fast set-ups) and on-the-fly alignment for maximum first pass yield and throughput. With component auto measure and precision alignment, components as small as 0402 resistors can be aligned with fine precision. Unlike our competitor's on-the-fly cameras, BPM's CyberOptics camera has twice the resolution, allowing for faster, more precise auto-correction for the highest quality at the fastest throughput. Above all, it allows the 3901, 3928, and BPM310 to handle the smallest chip-scale package (1.0mm x 0.5mm) to the largest fine-pitch QFP (34x34mm).
BPM manufactures all its systems in their ISO 9001:2015 certified plant located in Houston, Texas, and its products carry the CE Mark. To learn how BPM makes device programming easy, fast and affordable, go to bpmmicro.com/device-programmers/.
---
Bring Programming In-House  |  See BPM 3901 APS | Device Programmers from BPM